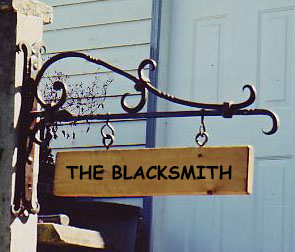 You've marveled at imposing wrought iron gates; you've longed for that design of a wrought iron birdcage; the weathervane on top of that barn caught your eye. How about a beautiful iron railing gracing the flagstone staircase to a sunken garden? Are these pieces just simply manufactured from some ironworks factory or are they literally pieces of art, forged from a centuries-old craft that has seemingly disappeared over the years in favour of mass production and uniformity?
Blacksmithing began with the Iron Age as a basal need for primitive man to turn heated rock into an implement - the first useable tool. It is that old. Three thousand years later the robustness of old time wrought iron work has segued to the graceful curves of more modern designs. The traditional methods and techniques of a centuries-old craft are still in use by today's modern masters. Heather O'Brien is one of those masters. With hand-crafted tools copied and then forged from middle-aged design, Heather has managed to recreate this ancient and most prestigious art form. Her ingenious use of the ancients' tools has helped determine the continuity of a perhaps forgotten art.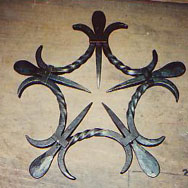 There is a look - a feel to hand-forged blacksmith works that is absent from mass-produced metal works. The form, texture and beauty of metal that has been crafted one piece at a time, has character. No two pieces are exactly alike creating a finished work that is truly unique. The joy of having your favourite pet or prized racehorse reproduced eternally in iron to grace your fireplace or herald the entrance to the farm is priceless. With the richness and distinction of a hand-forged, "one-of-a-kind" table, chair or gate; there truly is a style for every taste. Heather's work is forged out of a passion and desire to capture a portion of the smith's inheritance. We may never know how the armorers of Medieval Europe managed to produce their superb work but years and years of trial and error at the anvil have educated Heather in the making and proper use of the artisans' tools. Hand-made implements for chiseling, splitting and grooving segue into the mastery of forge welding, riveting and collaring. These vital forms are gaining a new-found respect for the art of blacksmithing and elucidate the appreciation of the modern conveniences we now take for granted.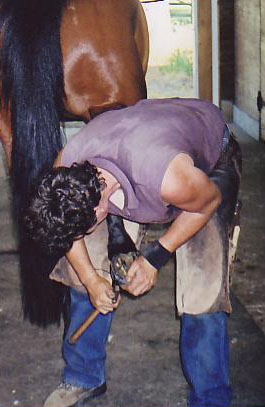 Did I mention "a farrier too"? Heather began her personal relationship with iron as a farrier. The Smith has been well rememberd as a shoer of horses and this piece of history has not been lost on Heather. Her understanding of Blacksmithing crafts for collaring, riveting, decorative twist and welding started by simply forging her own horse shoes. Heather didn't just take farriering for granted. Through years of continuous apprenticing and studying the horse's foot, she is considered one of only a handful of farriers to have mastered the exacting art of therapeutic shoeing. Through meticulous comparison and a thorough understanding of equine physiology, Heather is able to formulate a solution for almost any problem foot that a horse can come up with.
"shoes are not neccessarily bad for horses but BAD SHOEING IS!